Encyclopedia Britannica Article

Mentions Krakatoa, Mt. Pelee, Mt. Tambora, Paracutin, Mt. Pinatubo, and Mt. St. Helens

What is a Volcano?

Weather Wiz Kids Volcano Information Page

Scholastic Weather: Volcanoes

Contains basics, more in-depth information, experiments, witness account, words to know, experts say, be ready! and explore the ring of fire

Blow Your Top

This is a guided tour of a volcanic eruption.

Volcanoes

This video segment from IdahoPTV's D4K explains where and how volcanoes form and the role magma plays in their formation. Descriptions and examples of the 3 kinds of volcanoes are gives. Tectonic plates and hot spots are also discussed.

NOVA: Anatomy of a Volcano Interactive

from Teachers Domain

The World of Volcanoes: Video Segment from Nature

The Hawaiian Islands were created by volcanic eruptions. Continuous eruptions mean the islands are constantly changing. In an effort to safeguard the residents and communities on these islands, scientists conduct regular tests on lava flow samples to help predict future eruptions. This is a dangerous undertaking, even for the most experienced scientists.

National Park Service: Volcanism Interactive

Volcanoes provide spectacular evidence that we are living on a dynamic planet, where land can be created or destroyed without regard to human structures or civilizations. This interactive resource adapted from the National Park Service provides an introduction to the wonderful diversity of volcanoes, describing how they form and explaining the great variation in their size and shape and in the processes that created them.
Volcano News--Happening Now
Loading...
NOAAWatch Volcanoes Headlines
Volcano news from the federal government.
Loading...
Can Volcanologists Predict Eruptions?
Seismic Signals

This interactive activity from NOVA Online illustrates some of the clues modern seismologists are using to better understand activity deep within a volcano, in hopes of improving their ability to predict eruptions.

Volcanoes in the Infrared

In this video adapted from KUAC-TV and the Geophysical Institute at the University of Alaska, Fairbanks, learn how thermal imaging is used to help predict volcanic eruptions. See how satellite sensors can measure ground temperatures over large areas using infrared radiation. Observe how another device, a forward-looking infrared radiometer (FLIR), provides higher resolution images, and understand how monitoring volcanoes can reduce risks for air traffic and local residents.
Explore Alaska's Volcanoes
Explore Alaska's Volcanoes

In this interactive activity adapted from the University of Alaska, learn about four of Alaska's active volcanoes: Augustine, Cleveland, Okmok, and Veniaminof. Explore each volcano through photographs and investigate how different types of satellite images (synthetic aperture radar, thermal infrared, and color composite) are used to study volcanoes.
http://bit.ly/yqg9VM
http://bit.ly/zDNXXH
http://bit.ly/xJDTyU
Photo credit: Courtesy of USGS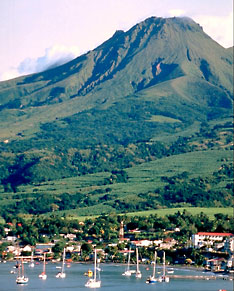 http://bit.ly/xOJpIf
http://bit.ly/AcEeYP